Operation Alexandria Gutenberg: How the Talking Book and Braille Library Transitioned to Customized Cartridges
Joel Henderson

State Library of Oregon
Keywords:
Oregon, library, association, Oregon libraries, academic library, libraries, librarians, northwest, information science, information literacy, social media, writing, library trends, books, donors, library funding, Oregon library association, quarterly, Oregon library association quarterly, American library association, ala, ola, reading, library success, success, evolving roles, OSU, Oregon state, University, web services, public, new discipline, changes in libraries, career, careers, library careers, library career, professional journal, scholarly, academic, circulation, Portland, innovative, inventive, solution, oregon librarians, librarian, civics, civic education, inspiring, engagement, role, participation, skills, create, creating, resources, develop, source, evaluate, evaluation, evaluating, collections, community, connecting, communities, history, Oregon State Library, State Library of Oregon, COVID-19, pandemic, Alexandria, Gutenberg, talking book, braille, plan, cartridges, ILS, change, audiobook, communication, patrons, print disabled, blind, information
Abstract
Since the beginning of the Talking Book and Braille program in 1932, books circulated to print-impaired users as single titles. Users had to return all the items that made up a single book in order to receive the items for another single book. Though the audio format changed several times over the years from records to discs to cassette tapes to flash-memory cartridges (reducing the number of items needed per book), the 1-for-1 circulation method remained essentially the same. But that was about to change.
A new circulation method had been in development by our ILS vendor for years, one that would allow us to load cartridges with customized lists of books based on a user's requests and preferences. Each cartridge could hold up to eight audiobooks loaded from a digital storage unit that would be constantly updated in real-time. All users could have whatever titles they want whenever they want them. No more unavailable titles, no more waiting for copies, no more overdue items. This new method would reduce the number of cartridges mailed out per day from 1,200 to 150. The daily circulation process would be reduced from four hours to one hour. It would shrink our 90,000+ audiobook collection's physical footprint from thousands of shelves to one computer. This revolutionary circulation method makes everyone's life better.
Then COVID-19 happened. Elke was promoted to Program Manager in mid-March, and two days into her tenure she had to make the tough call to temporarily discontinue mail delivery of books—just one week away from implementation of customized cartridges.
Note: A new version of this article was posted on Nov. 6, 2020, to include the author's updated State Library of Oregon email address.
Downloads
Download data is not yet available.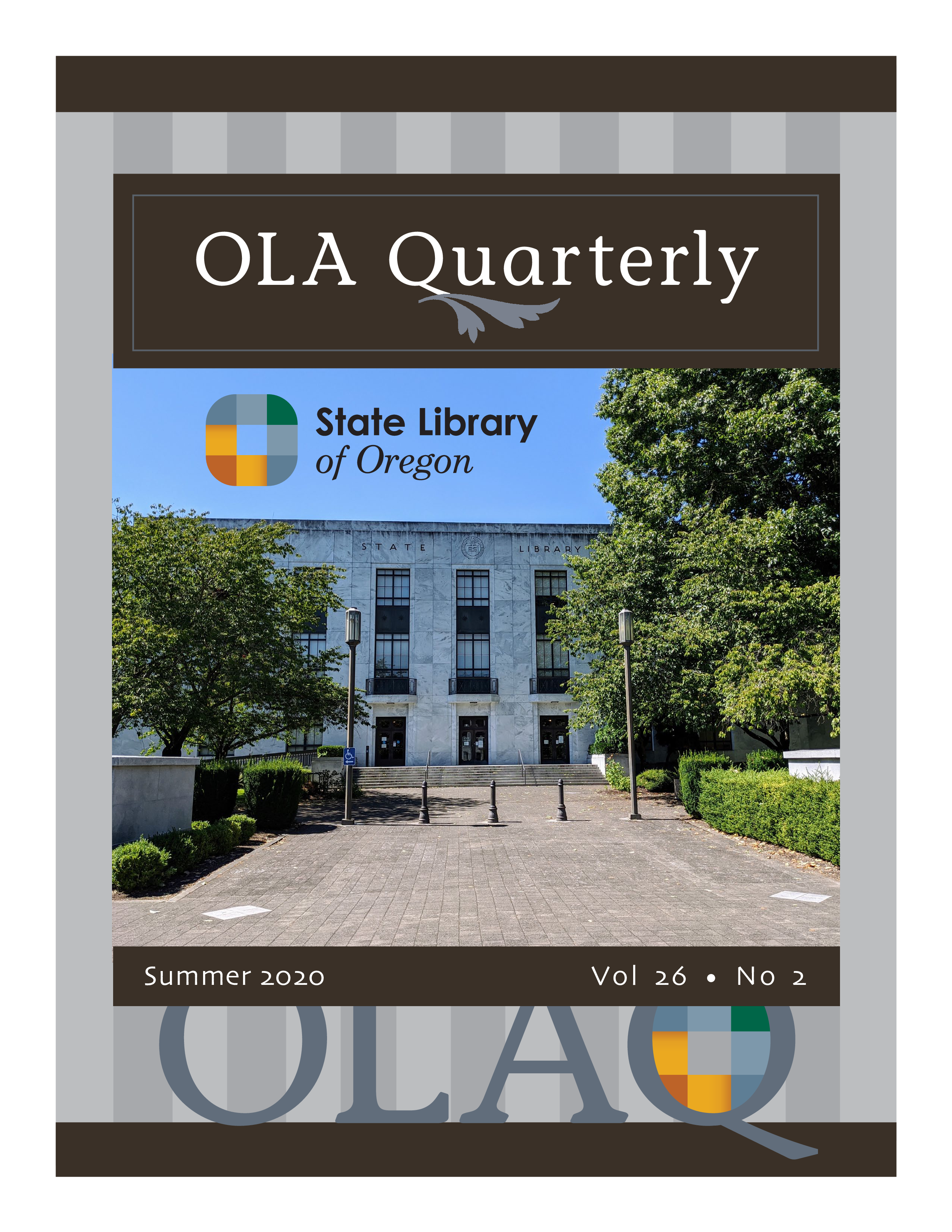 How to Cite
Henderson, J. (2020). Operation Alexandria Gutenberg: How the Talking Book and Braille Library Transitioned to Customized Cartridges. OLA Quarterly, 26(2), 30-33. https://doi.org/10.5399/osu/1093-7374.26.02.07