State of School Libraries in Oregon: Challenges and Successes
Jennifer Maurer

State Library of Oregon
Keywords:
Oregon, library, association, Oregon libraries, academic library, libraries, librarians, northwest, information science, information literacy, social media, writing, library trends, books, donors, library funding, Oregon library association, quarterly, Oregon library association quarterly, American library association, ala, ola, reading, library success, success, evolving roles, OSU, Oregon state, University, web services, public, new discipline, changes in libraries, career, careers, library careers, library career, professional journal, scholarly, academic, circulation, Portland, innovative, inventive, solution, oregon librarians, librarian, civics, civic education, inspiring, engagement, role, participation, skills, create, creating, resources, develop, source, evaluate, evaluation, evaluating, collections, community, connecting, communities, history, Oregon State Library, State Library of Oregon, COVID-19, pandemic, School, LSTA, OBOB, OSLIS, OASL, department, development, legislation, committee, advocacy, George, controversy, toolkit, certified, paraprofessional, quality, funding, decisions, rules
Abstract
The State Library supports Oregon school libraries in a variety of ways. Data about school library staffing and funding is collected and is often requested by library advocates. The State Library's Library Services and Technology Act (LSTA) allotment contributes to or funds Oregon Battle of the Books (OBOB), the statewide databases, and the Oregon School Library Information System, otherwise known as OSLIS. In addition, the Oregon Association of School Libraries (OASL) has benefited from LSTA competitive grants, such as grants they received to develop the Oregon School Library Standards and the related Grade-Level Learning Goals. I work closely with the Oregon Department of Education (ODE), and as I learn about relevant updates and projects at ODE, I keep the library community informed about potential opportunities and connect OASL leadership with appropriate ODE contacts. Much of the support I provide comes in the form of consulting as needs arise.
Additional local support comes from organizations like the Oregon Library Association (OLA) and Oregon Association of School Libraries. For example, as a result of how COVID-19 has affected K-12 education, OASL leadership developed talking points about the value that licensed and paraprofessional staff bring during distance learning. Those organizations can also advocate for school libraries in ways that the State Library, as a state agency, cannot. In the last couple of years, OASL ramped up their advocacy efforts by forming an advocacy committee. They created an advocacy toolkit and worked with the OLA Library Development & Legislation Committee during the last full session of the Oregon Legislature, trying to pass legislation that would require licensed school librarians in elementary schools, among other things, based on momentum from the then-pending Student Success Act. The school library legislation did not advance, and the advocacy committee plans to pursue new legislation again when the time is right. That situation is a reflection of the current state of school libraries in Oregon. Much good work is being done, but efforts to staff, fund, and better utilize school library programs often do not move forward.
In preparation to write this article, I asked OASL members to respond to a survey about successes and challenges. Top challenges surfaced, both through the survey responses and from trends I have noticed in my dozen years at the State Library.
Note: A new version of this article was posted on Nov. 6, 2020, to include the author's updated State Library of Oregon email address.
Downloads
Download data is not yet available.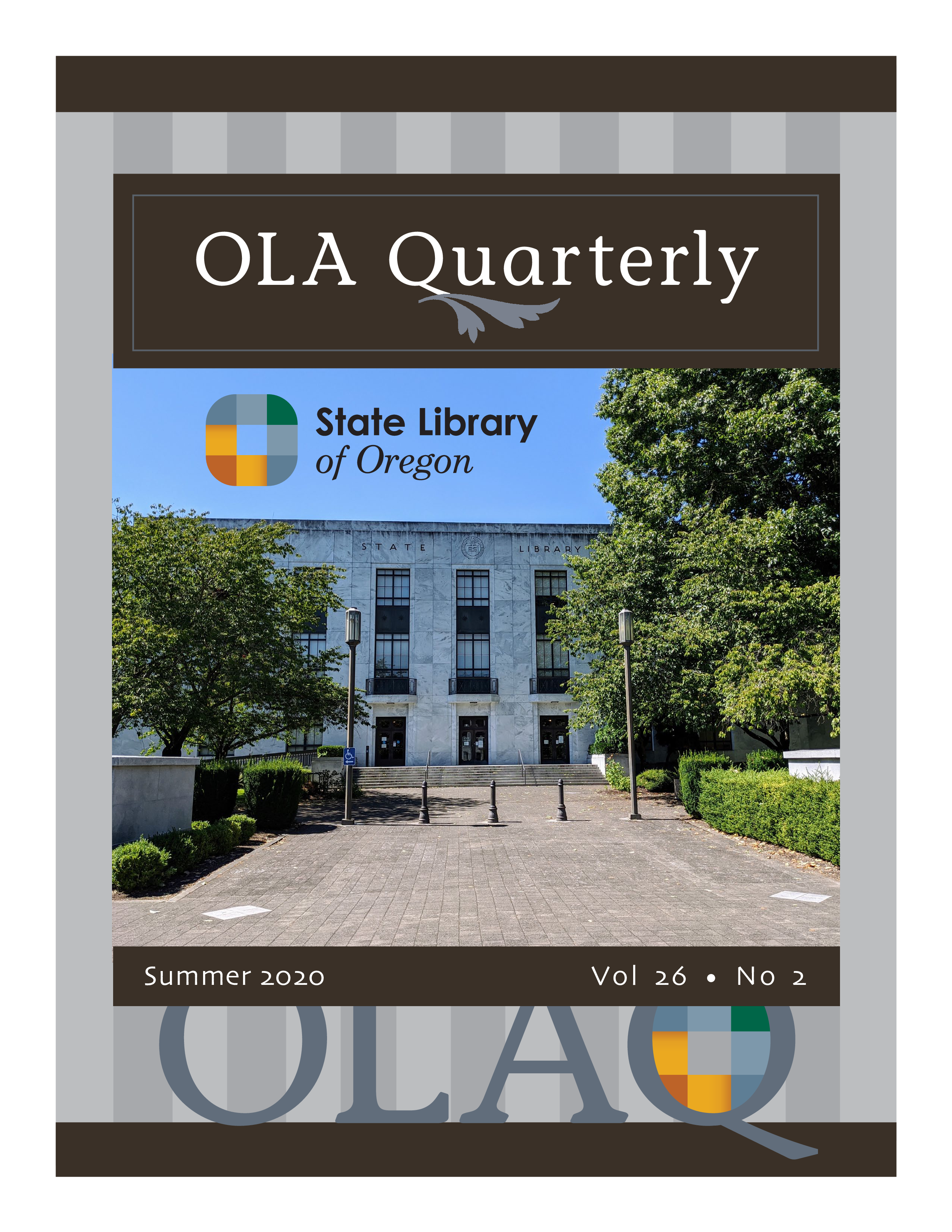 How to Cite
Maurer, J. (2020). State of School Libraries in Oregon: Challenges and Successes. OLA Quarterly, 26(2), 19-25. https://doi.org/10.5399/osu/1093-7374.26.02.05