Database Promotion at the Intersection of Electronic Resource Management and Outreach
Amy Coughenour

State Library of Oregon
Keywords:
Oregon, library, association, Oregon libraries, academic library, libraries, librarians, northwest, information science, information literacy, social media, writing, library trends, books, donors, library funding, Oregon library association, quarterly, Oregon library association quarterly, American library association, ala, ola, reading, library success, success, evolving roles, OSU, Oregon state, University, web services, public, new discipline, changes in libraries, career, careers, library careers, library career, professional journal, scholarly, academic, circulation, Portland, innovative, inventive, solution, oregon librarians, librarian, civics, civic education, inspiring, engagement, role, participation, skills, create, creating, resources, develop, source, evaluate, evaluation, evaluating, collections, community, connecting, communities, history, Oregon State Library, State Library of Oregon, COVID-19, pandemic, Database promotion, electronic resource management, outreach, management, cycle, eBook, O'Reilly, process, audience, users, communication, LibGuides, government, publication, services, plan, assessment, registration, Safari, agency
Abstract
During the electronic resource management cycle, library staff review, acquire, evaluate, and deactivate databases based on a number of factors that include usage statistics, collection development decisions, and budgetary factors. One aspect of electronic resource management that has increased in the Government Information and Library Services division is our promotion of new, updated, or existing databases to our state employee users.
This article discusses a pilot project designed to promote the use of the Safari database (now known as O'Reilly). It shares the steps we took to plan and implement outreach activities focused on the database, along with how we created goals and measures to evaluate and assess the success of the promotion.
After the pilot database promotion, we gained experience and information to design additional database promotions, which has helped us improve our communications and outreach to state employees.
Note: A new version of this article was posted on Nov. 6, 2020, to include the author's updated State Library of Oregon email address.
Downloads
Download data is not yet available.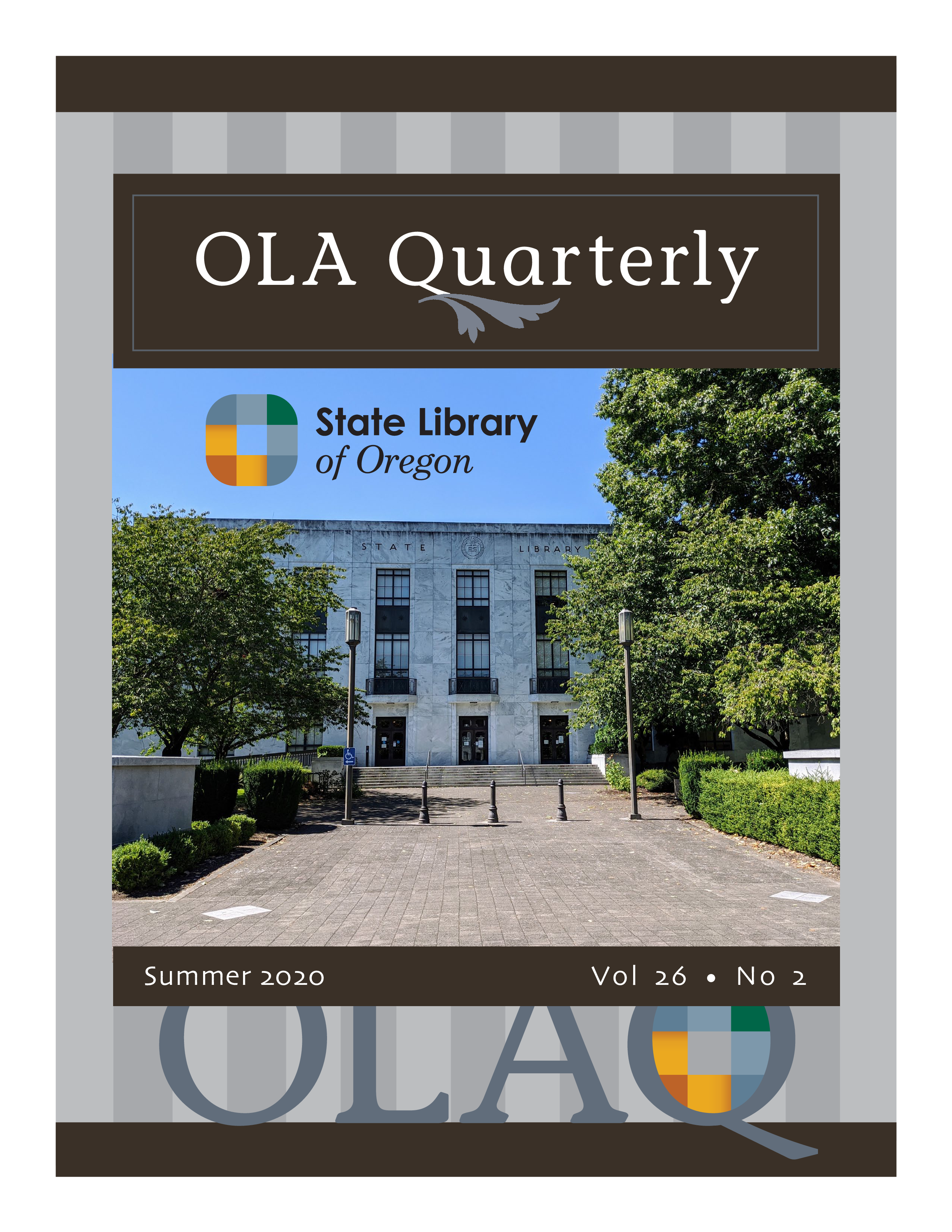 How to Cite
Coughenour, A. (2020). Database Promotion at the Intersection of Electronic Resource Management and Outreach. OLA Quarterly, 26(2), 10-18. https://doi.org/10.5399/osu/1093-7374.26.02.04