Know How to Play the Accordion, but Don't (and Other Things I Learned While Implementing a Discovery Layer: A Top Ten List)
Amy Mihelich

Washington County Cooperative Library Services
Keywords:
Oregon librarians, Oregon libraries, Oregon Library Association, Oregon Library Association Quarterly, Pacific Northwest libraries, PNW libraries, library jobs, library careers, librarian, librarians, cataloger, cataloging, metadata, data, migration, ILS, integrated library system, organization, future organization of things, technical services, training, cataloging training, Reed College, Washington County Cooperative Library Services, WCCLS, discovery layer, BiblioCommons, Pacific University, library automation, automation, Warrenton Community Library, Seaside Public Library, ArchivesSpace, Hillsboro Public Library, design thinking, library processing, Eureka! Project, 5 Whys, Lean, archive, archives, archival, scholarly, OER, open electronic resources, Linn-Benton Community College, Mt. Hood Community College, LBCC, MHCC, facets, faceted vocabulary, faceting, faceted searching, faceted search, University of Oregon, Alma, Cedar Mills & Bethany Community Libraries, future of cataloging, cataloging trends, fu
Abstract
Between May and November of 2018, Washington County Cooperative Library Services (WCCLS) implemented BiblioCore, a discovery service from BiblioCommons that would become the public interface for our existing Polaris catalog. We had a successful launch on November 14, with positive feedback from both staff and patrons. It was a highly visible project with a tight timeline. The project team was small—I was the solo cataloger and responsible for all the parts of the project that were cataloging related.
My office oversees the catalog in general, but each library manages the cataloging of their own items, so there were staff in all our libraries who needed to be kept up to speed on the changes brought by BiblioCore. That was also my responsibility.
Until the project was underway, I didn't know what work would be required, but I discovered the knowledge I had gained on previous projects was tremendously useful. Additionally, earlier cleanup projects had improved the condition of our catalog in a way which made the implementation go much more smoothly than it might have otherwise. There were, of course, things I wish I had done differently, and a few solutions I had to come up with along the way that I will use again on future projects. Every discovery layer, migration, and catalog is different, but I hope some of what I learned can be useful to others, whether or not you work in technical services, have to plan projects, or are considering a discovery service.
And what better way to organize and share what I learned than in that most ancient of organizational systems, a top ten list?
Downloads
Download data is not yet available.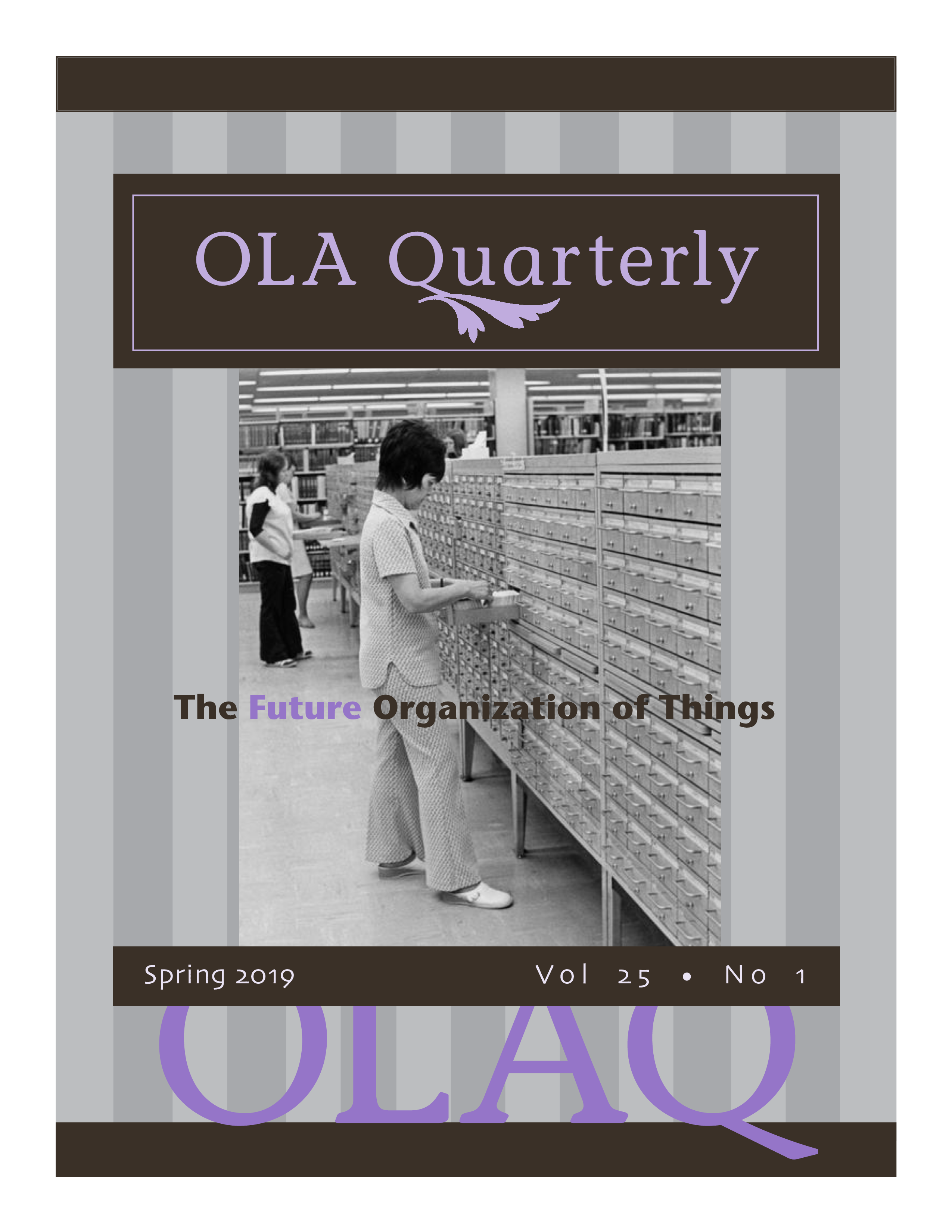 How to Cite
Mihelich, A. (2019). Know How to Play the Accordion, but Don't (and Other Things I Learned While Implementing a Discovery Layer: A Top Ten List). OLA Quarterly, 25(1), 40-45. https://doi.org/10.7710/1093-7374.1976