Opportunities With Archives West: How a Small Academic Archive Benefits From Membership
Becca Evans

Southern Oregon University
Keywords:
Oregon, Oregon libraries, academic library, libraries, librarians, northwest, information science, information literacy, social media, writing, library trends, books, donors, library funding, Oregon library association, quarterly, Oregon library association quarterly, American library association, ala, ola, reading, library success, success, evolving roles, OSU, Oregon state, University, web services, public, new discipline, changes in libraries, career, careers, library careers, library career, professional journal, scholarly, academic, circulation, Portland, Multnomah County Library, innovative, inventive, solution, oregon librarians, librarian, political, politics, political action, association, civics, civic education, inspiring, engagement, role, participation, skills, create, creating, resources, develop, source, evaluate, evaluation, evaluating, University of Oregon, UO, learn, learned, program, job, for, a, an, the, leadership, institute, liola, digital repositories, data harvests, data, digital public library of america, mountain west digital library, archives, archive, archivist, history, photograph, osu, oregon state, university, southern oregon, state library of oregon, state library, harvester, newspaper, special collections, alliance, consortium, orbis cascade, archives west, dpla, mwdl, heritage, culture, cultural, navigating, collaborate, navigate, platform, National Endowment for the Humanities, Library Services and Technology Act, lsta, MARC, commision, lewis & clark college, uo, university of oregon, maureen, flanagan, battistella, preservation, curation, curate, becca evans, southern oregon university, hannon library, hannon, spec, special collections and university archives, archivesspace, orbis cascade alliance, collection management, time saving
Abstract
Like many smaller academic organizations, Southern Oregon University's Hannon Library Special Collections and University Archives (SPEC) operates with a limited budget and minimal staffing. Membership to Archives West provides Hannon Library with a framework to enhance discovery, improve collection management, and promote growth and sustainability. The additional resources provided by Archives West and the Orbis Cascade Alliance allow SPEC to increase capacity and improve services to students and community researchers. The underlying framework consists of training sessions, best practices documents, affordable access to ArchivesSpace, and system support. While improved discoverability is often the primary motivator, libraries should not overlook the added value of improved workflows concerning collection management. Overall, the support provided by Archives West enables smaller archives to streamline their management activities while enhancing discoverability for the current users and reaching new users. Participation in Archives West also offers greater visibility, which facilitates the library's outreach and advocacy efforts. The benefits of membership in Archives West are well worth the efforts inherent in implementing new software and altering workflows.
Downloads
Download data is not yet available.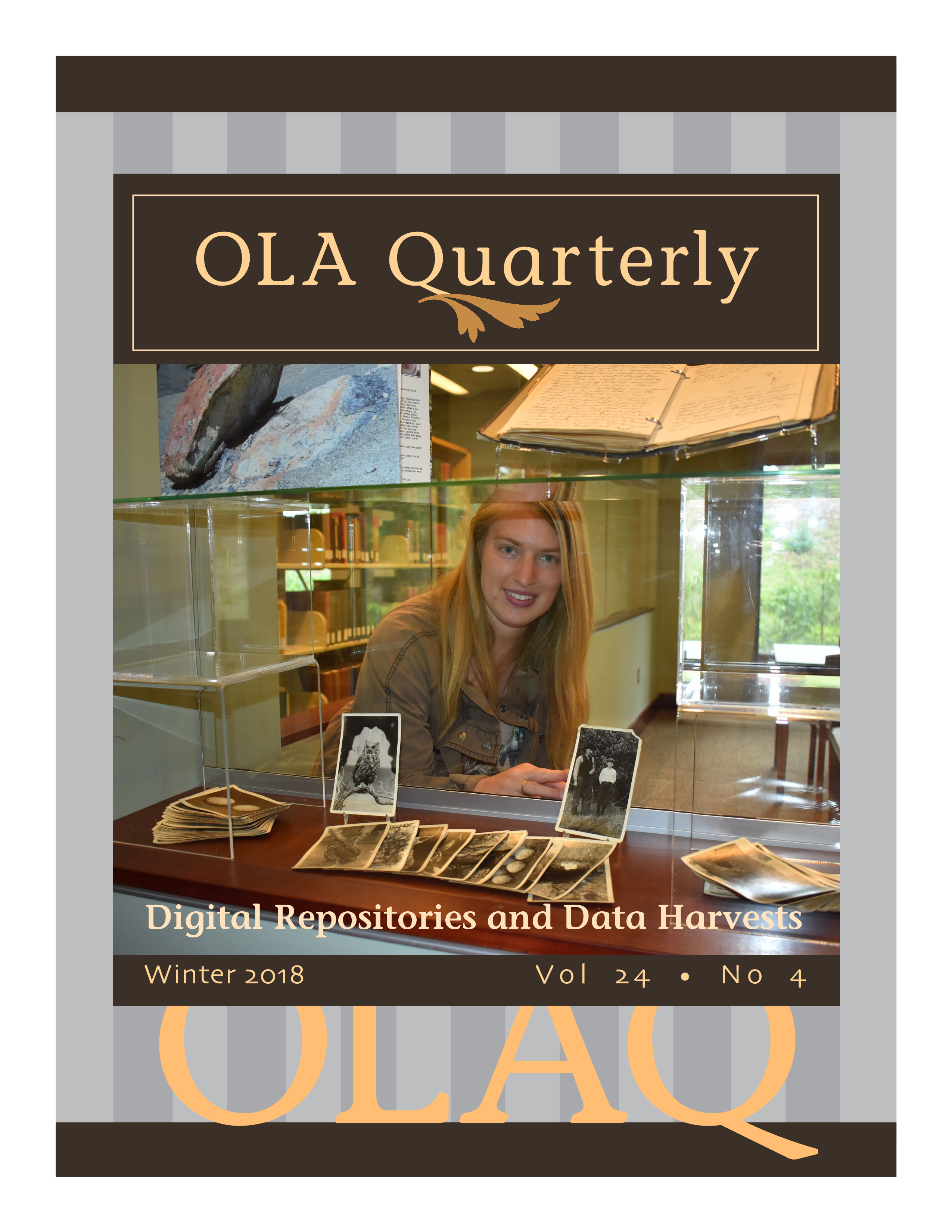 How to Cite
Evans, B. (2019). Opportunities With Archives West: How a Small Academic Archive Benefits From Membership. OLA Quarterly, 24(4), 28-33. https://doi.org/10.7710/1093-7374.1961