The Oregon Digital Newspaper Program's Commitment to Open Access
Sarah Seymore

University of Oregon
Keywords:
Oregon, Oregon libraries, academic library, libraries, librarians, northwest, information science, information literacy, social media, writing, library trends, books, donors, library funding, Oregon library association, quarterly, Oregon library association quarterly, American library association, ala, ola, reading, library success, success, evolving roles, OSU, Oregon state, University, web services, public, new discipline, changes in libraries, career, careers, library careers, library career, professional journal, scholarly, academic, circulation, Portland, Multnomah County Library, innovative, inventive, solution, oregon librarians, librarian, political, politics, political action, association, civics, civic education, inspiring, engagement, role, participation, skills, create, creating, resources, develop, source, evaluate, evaluation, evaluating, University of Oregon, UO, learn, learned, program, job, for, a, an, the, leadership, institute, liola, digital repositories, data harvests, data, digital public library of america, mountain west digital library, archives, archive, archivist, history, photograph, osu, oregon state, university, southern oregon, state library of oregon, state library, harvester, newspaper, special collections, alliance, consortium, orbis cascade, archives west, dpla, mwdl, heritage, culture, cultural, navigating, collaborate, navigate, platform, National Endowment for the Humanities, Library Services and Technology Act, lsta, MARC, commision, lewis & clark college, uo, university of oregon, maureen, flanagan, battistella, sarah, seymore, oregon digital newspaper program, odnp, digitazation, preservation, ndnp, curation, curate
Abstract
The Oregon Digital Newspaper Program (ODNP) at the University of Oregon Libraries is an initiative to digitize historic and current Oregon newspapers, making them freely available to the public through a keyword-searchable online database. The ODNP is committed to open access and has included collaboration and data sharing with larger programs like the Library of Congress' Chronicling America historic newspaper website. Since 2015, the ODNP has increased its open access mission by archiving and hosting born-digital newspaper content, as well as continuing digitization of historic newspapers from microfilm and print. This article outlines the ODNP's past and current open access efforts, inclusion of diverse content, and open source, sustainable applications, websites, and workflows.
Downloads
Download data is not yet available.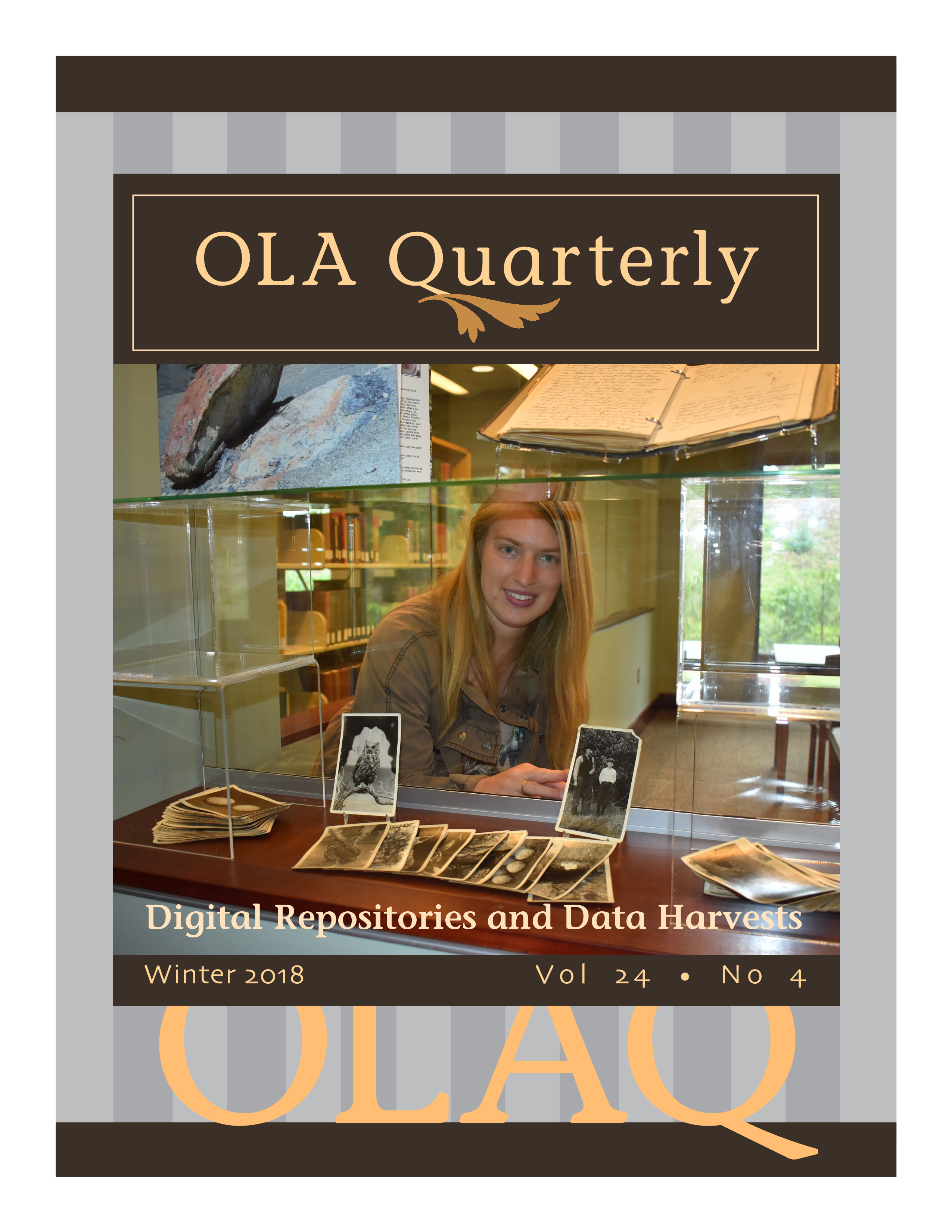 How to Cite
Seymore, S. (2019). The Oregon Digital Newspaper Program's Commitment to Open Access. OLA Quarterly, 24(4), 21-27. https://doi.org/10.7710/1093-7374.1960