Out With the Old, in With the … ArchivesSpace
Laura Buchholz

Reed College
Keywords:
Oregon librarians, Oregon libraries, Oregon Library Association, Oregon Library Association Quarterly, Pacific Northwest libraries, PNW libraries, library jobs, library careers, librarian, librarians, cataloger, cataloging, metadata, data, migration, ILS, integrated library system, organization, future organization of things, technical services, training, cataloging training, Reed College, Washington County Cooperative Library Services, WCCLS, discovery layer, BiblioCommons, Pacific University, library automation, automation, Warrenton Community Library, Seaside Public Library, ArchivesSpace, Hillsboro Public Library, design thinking, library processing, Eureka! Project, 5 Whys, Lean, archive, archives, archival, scholarly, OER, open electronic resources, Linn-Benton Community College, Mt. Hood Community College, LBCC, MHCC, facets, faceted vocabulary, faceting, faceted searching, faceted search, University of Oregon, Alma, Cedar Mills & Bethany Community Libraries, future of cataloging, cataloging trends, fu
Abstract
What do you do when your cataloging infrastructure is outdated, unusable by your patrons, and creating excess work for your staff? Get new infrastructure! At Special Collections and Archives in the Reed College Library, we are in the process of implementing ArchivesSpace, a collection management tool for archives. As we go, we are professionalizing our description practices, preparing to contribute to regional aggregations (Archives West), and, most importantly, increasing access to our collections. The software is also easier to use and reduces the time we spend doing research for our patrons.
Downloads
Download data is not yet available.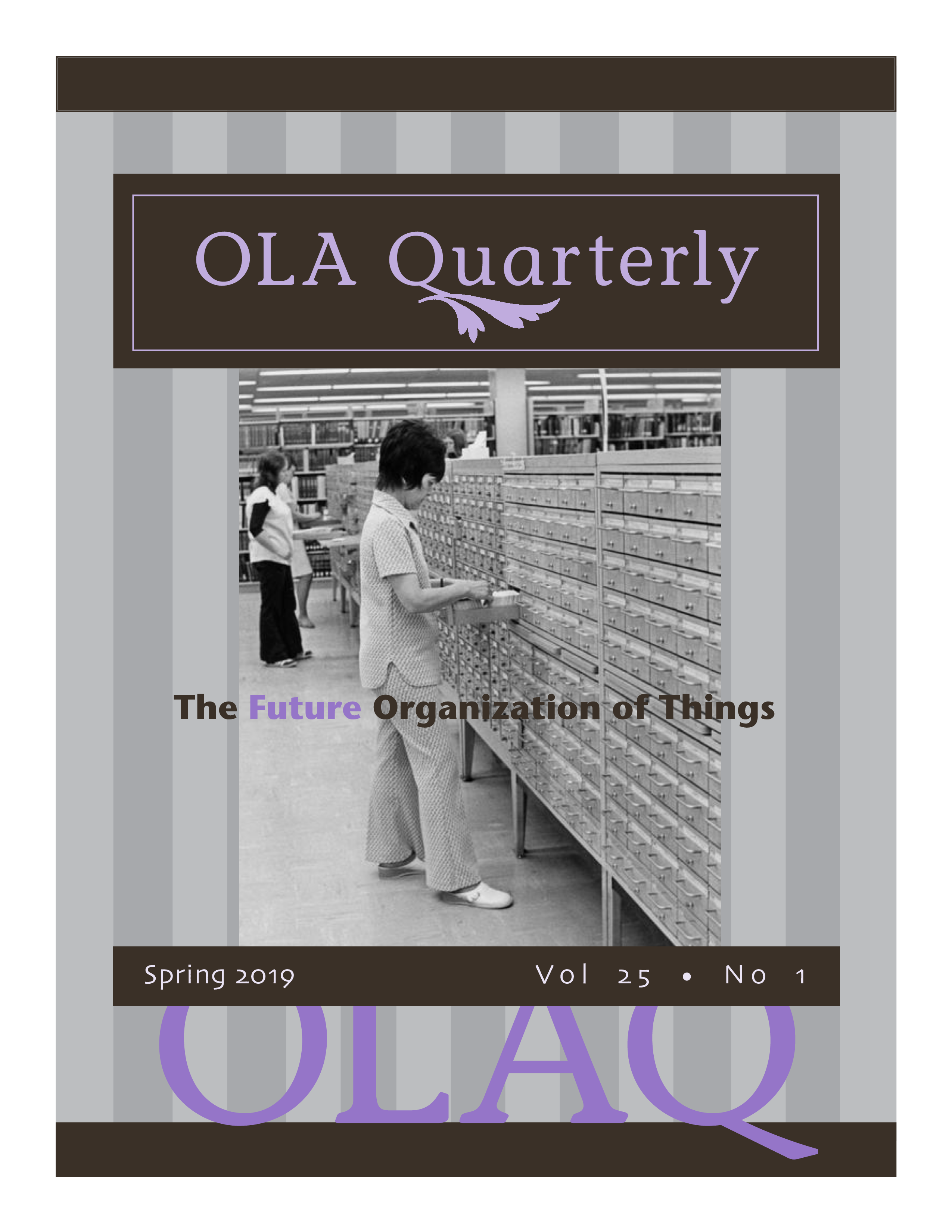 How to Cite
Buchholz, L. (2019). Out With the Old, in With the … ArchivesSpace. OLA Quarterly, 25(1), 30-33. https://doi.org/10.7710/1093-7374.1973