From Selection to Shelf: A Process Improvement Experience
Lorie Vik

Hillsboro Public Library
Keywords:
Oregon librarians, Oregon libraries, Oregon Library Association, Oregon Library Association Quarterly, Pacific Northwest libraries, PNW libraries, library jobs, library careers, librarian, librarians, cataloger, cataloging, metadata, data, migration, ILS, integrated library system, organization, future organization of things, technical services, training, cataloging training, Reed College, Washington County Cooperative Library Services, WCCLS, discovery layer, BiblioCommons, Pacific University, library automation, automation, Warrenton Community Library, Seaside Public Library, ArchivesSpace, Hillsboro Public Library, design thinking, library processing, Eureka! Project, 5 Whys, Lean, archive, archives, archival, scholarly, OER, open electronic resources, Linn-Benton Community College, Mt. Hood Community College, LBCC, MHCC, facets, faceted vocabulary, faceting, faceted searching, faceted search, University of Oregon, Alma, Cedar Mills & Bethany Community Libraries, future of cataloging, cataloging trends, fu
Abstract
After Hillsboro Public Library (HPL) used design thinking to build a collaborative service model on the public floor, we wanted to extend it behind the scenes. How could we achieve our goal of getting items from door to floor in under 48 hours? How could we improve the workflow with selection, acquisitions, cataloging, and processing to create a 7-day-a-week operation? The library teamed up with the City's Eureka! Project to use process improvement tools to analyze our systems and workflow. We involved non-library staff on the team to get an outsider's perspective, and we asked the staff doing the work lots and lots of questions. After three days we identified short, medium, and long-term action items to meet our goals and ultimately provide better service to patrons.
Downloads
Download data is not yet available.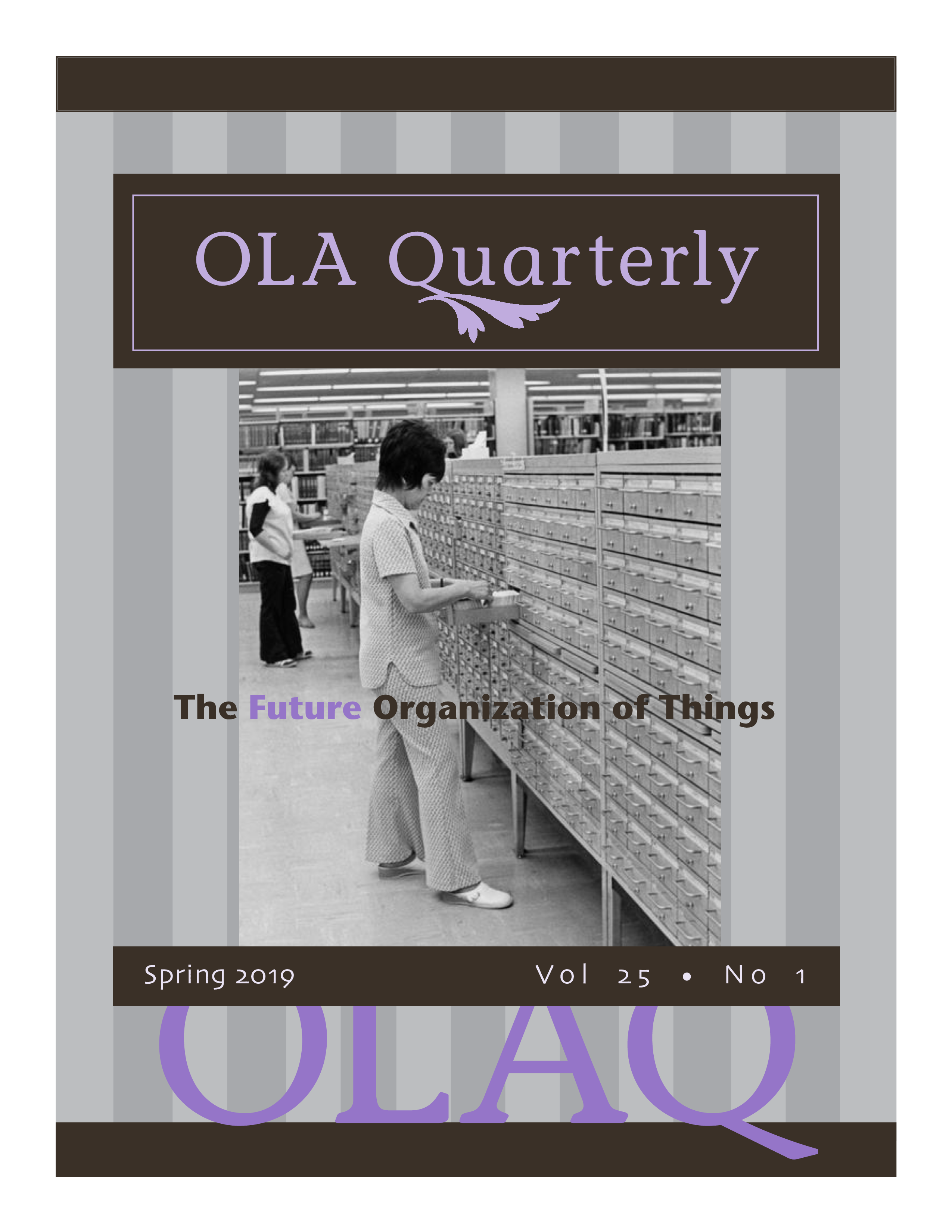 How to Cite
Vik, L. (2019). From Selection to Shelf: A Process Improvement Experience. OLA Quarterly, 25(1), 25-29. https://doi.org/10.7710/1093-7374.1972