DPLA in the Pacific Northwest: The Orbis Cascade Alliance Case
Mark Dahl

Aubrey R. Watzek Library, Lewis & Clark

Zachariah Selley

Lewis & Clark College
Keywords:
Oregon, Oregon libraries, academic library, libraries, librarians, northwest, information science, information literacy, social media, writing, library trends, books, donors, library funding, Oregon library association, quarterly, Oregon library association quarterly, American library association, ala, ola, reading, library success, success, evolving roles, OSU, Oregon state, University, web services, public, new discipline, changes in libraries, career, careers, library careers, library career, professional journal, scholarly, academic, circulation, Portland, Multnomah County Library, innovative, inventive, solution, oregon librarians, librarian, political, politics, political action, association, civics, civic education, inspiring, engagement, role, participation, skills, create, creating, resources, develop, source, evaluate, evaluation, evaluating, University of Oregon, UO, learn, learned, program, job, for, a, an, the, leadership, institute, liola, digital repositories, data harvests, data, digital public library of america, mountain west digital library, archives, archive, archivist, history, photograph, osu, oregon state, university, southern oregon, state library of oregon, state library, harvester, newspaper, special collections, alliance, consortium, orbis cascade, archives west, dpla, mwdl, heritage, culture, cultural, navigating, collaborate, navigate, platform, National Endowment for the Humanities, Library Services and Technology Act, lsta, MARC, commision, lewis & clark college, uo, university of oregon, maureen, flanagan, battistella, mark, dahl, zachariah, selley, orbis, cascade, nwda, northwest digital archive, xcu, hub, collection, digital
Abstract
The Orbis Cascade Alliance's journey to becoming a Digital Public Library of America (DPLA) Service Hub illustrates some important challenges and opportunities in the world of digital cultural heritage work. Released in 2013, DPLA brings together cultural heritage content on a national digital platform. Since 2014 the Alliance has moved towards DPLA membership as part of a broader strategy to aggregate its members' digital cultural heritage collections and make them more discoverable. Competing strategies for making content discoverable, limited financial resources, and differences in missions between institutions have been obstacles as the Alliance has worked towards aggregated collections and DPLA membership. The DPLA has experienced recent growing pains as evidenced by a staff downsizing in November 2018 and the closing of a major Service Hub shortly thereafter. Though the Alliance membership has made extensive progress in metadata standardization and aggregation in preparation for a DPLA ingest, as of June 2019, Alliance DPLA activity is on hold until a new Program Manager for Unique and Local Content comes on board.
Downloads
Download data is not yet available.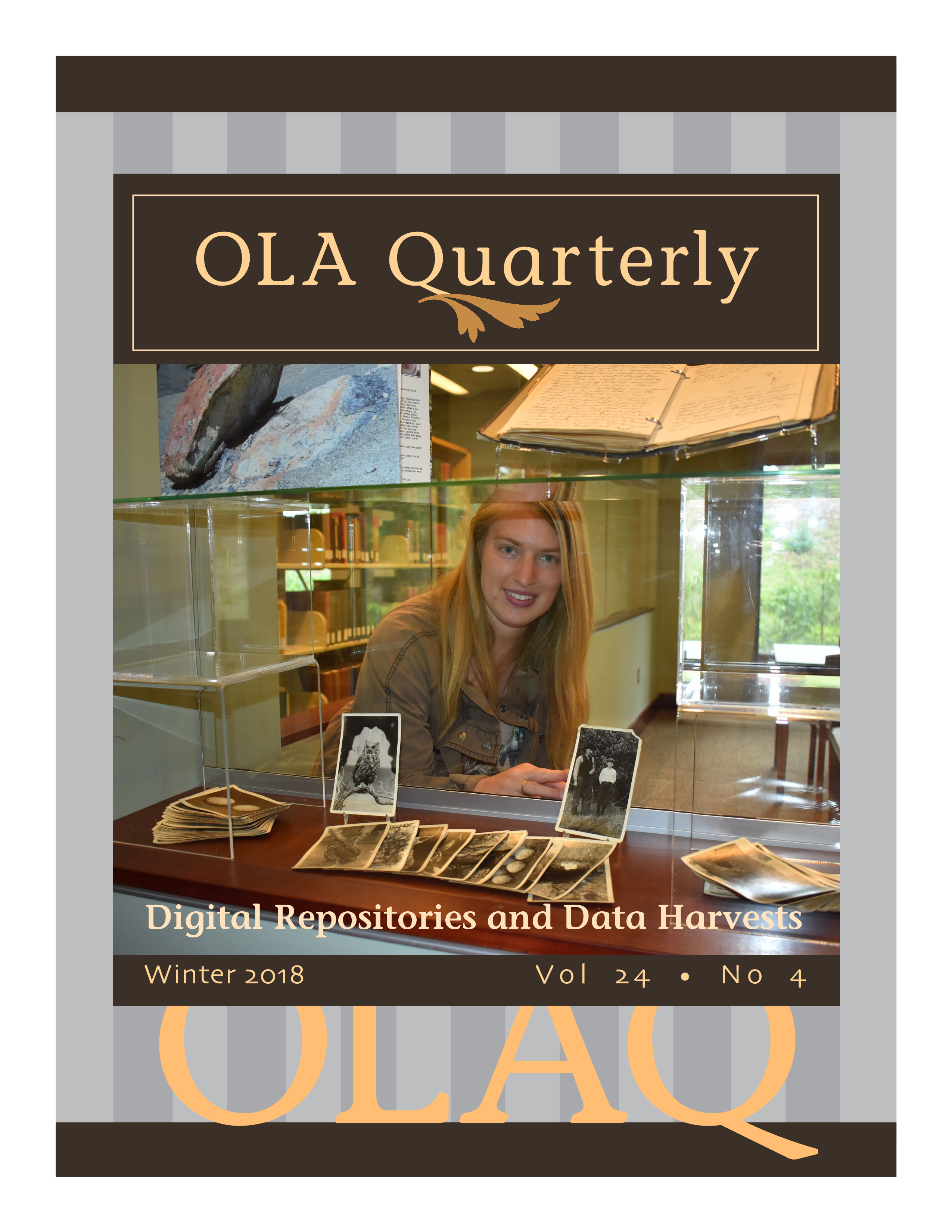 How to Cite
Dahl, M., & Selley, Z. (2019). DPLA in the Pacific Northwest: The Orbis Cascade Alliance Case. OLA Quarterly, 24(4), 13-20. https://doi.org/10.7710/1093-7374.1959