From OASIS to Samvera: Three Decades of Online Access to OSU's Archives and Special Collections
Lawrence A Landis

Oregon State University
Keywords:
Oregon, Oregon libraries, academic library, libraries, librarians, northwest, information science, information literacy, social media, writing, library trends, books, donors, library funding, Oregon library association, quarterly, Oregon library association quarterly, American library association, ala, ola, reading, library success, success, evolving roles, OSU, Oregon state, University, web services, public, new discipline, changes in libraries, career, careers, library careers, library career, professional journal, scholarly, academic, circulation, Portland, Multnomah County Library, innovative, inventive, solution, oregon librarians, librarian, political, politics, political action, association, civics, civic education, inspiring, engagement, role, participation, skills, create, creating, resources, develop, source, evaluate, evaluation, evaluating, University of Oregon, UO, learn, learned, program, job, for, a, an, the, leadership, institute, liola, digital repositories, data harvests, data, digital public library of america, mountain west digital library, archives, archive, archivist, history, photograph, osu, oregon state, university, southern oregon, state library of oregon, state library, harvester, newspaper, special collections, alliance, consortium, orbis cascade, archives west, dpla, mwdl, heritage, culture, cultural, navigating, collaborate, navigate, platform, National Endowment for the Humanities, Library Services and Technology Act, lsta, MARC, commision, lewis & clark college, uo, university of oregon, maureen, flanagan, battistella, lawrence, landis, larry, oasis, samvera, online access, three decades, osulp, contentdm, scarc, director, Special Collections and Archives Research Center, libraries and press
Abstract
Oregon State University has been a leader in making unique resources accessible via the Internet. Individually or with collaborative partners, OSU made collection information, exhibits and entire collections available online. This timeline article presents OSU's major projects and developments to promote online accessibility over the past thirty years.
Downloads
Download data is not yet available.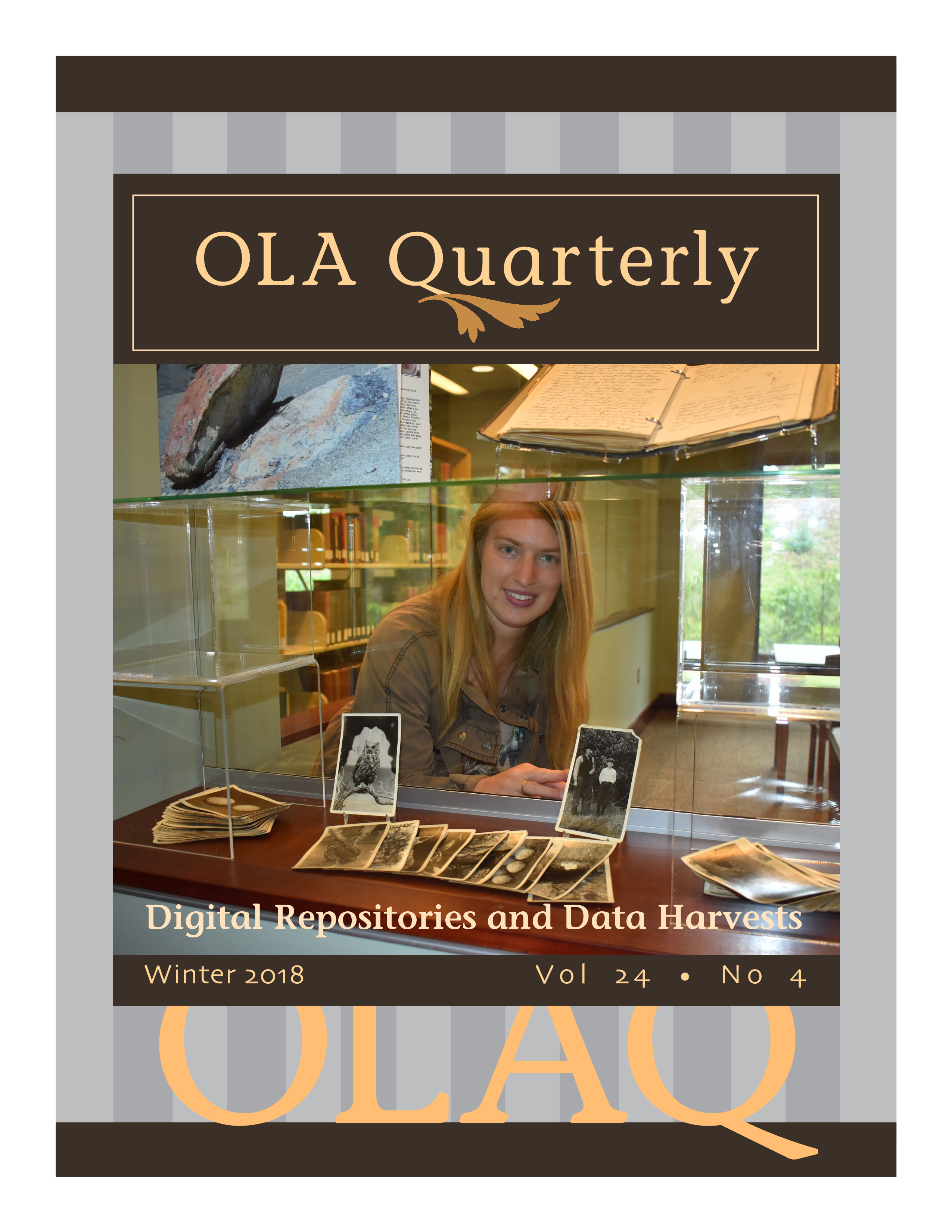 How to Cite
Landis, L. A. (2019). From OASIS to Samvera: Three Decades of Online Access to OSU's Archives and Special Collections. OLA Quarterly, 24(4), 5-12. https://doi.org/10.7710/1093-7374.1958