Extending Open Textbook Network Workshop and Reviews to Include All OER and Library Materials
Jennifer Lantrip

Umpqua Community College

Amy Hofer

Open Oregon Educational Resources

Carol McGeehon

Umpqua Community College
Keywords:
Oregon, Oregon libraries, academic library, libraries, librarians, northwest, information science, information literacy, social media, writing, library trends, books, donors, library funding, Oregon library association, quarterly, Oregon library association quarterly, American library association, ala, ola, reading, library success, success, evolving roles, OSU, Oregon state, University, web services, public, new discipline, changes in libraries, career, careers, library careers, library career, professional journal, scholarly, academic, circulation, Portland, Multnomah County Library, innovative, inventive, solution, oregon librarians, librarian, oer, open educational resources, textbook, affordability, access, student, opportunities, challenges, impact, Jaqueline ray, costs, budgets, equity, social justice, innovate, jennifer lantrip, amy hofer, carol mcgeehon, umpqua, community college, open oregon education resources, sue schaffer learning commons, roseburg, oregon, workshop, reviews, materials, pirgs, survey, assessment, babson, license, otn, otl, hb 2871, ucc, no cost textbook
Abstract
The cost of higher education is a barrier for many students, keeping them from attaining their goals. While textbooks and course materials are just a small part of the total cost of attendance, this is the area where faculty can have a direct impact in lowering costs. By choosing openly licensed course materials, faculty can not only help students save money but also have complete control over customizing their curriculum. This article describes a workshop model that offers stipends for faculty to review open educational resources (OER), which increases the likelihood that they will go on to adopt OER in their courses. Librarians at Umpqua Community College (UCC) extended the workshop model, and their innovation is now being implemented statewide.
Downloads
Download data is not yet available.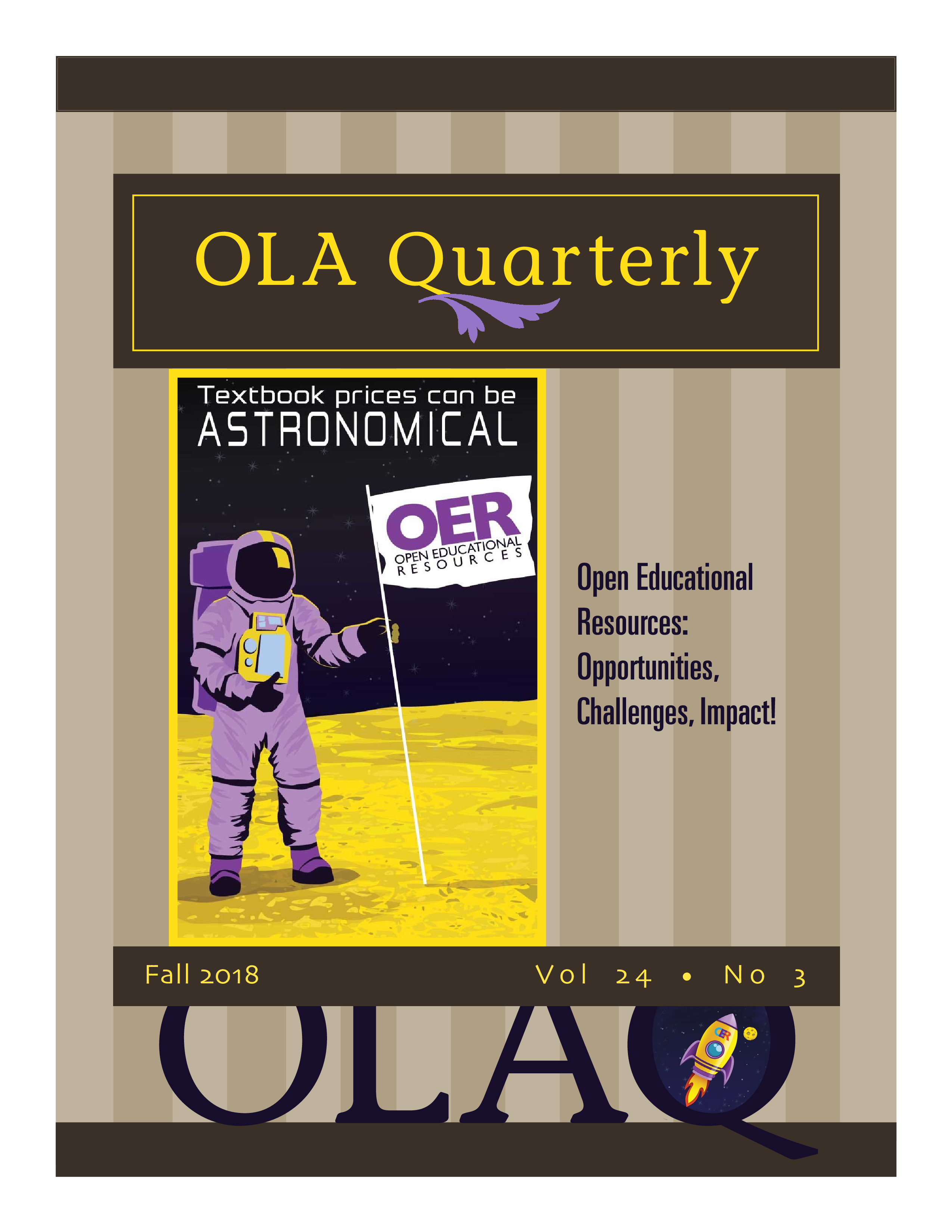 How to Cite
Lantrip, J., Hofer, A., & McGeehon, C. (2019). Extending Open Textbook Network Workshop and Reviews to Include All OER and Library Materials. OLA Quarterly, 24(3), 18-28. https://doi.org/10.7710/1093-7374.1951