Volume 24 Issue 2 Introduction
Jane Scheppke

Crook County Library
Keywords:
Oregon, Oregon libraries, academic library, libraries, librarians, northwest, information science, information literacy, social media, writing, library trends, books, donors, library funding, Oregon library association, quarterly, Oregon library association quarterly, American library association, ala, ola, reading, library success, success, evolving roles, OSU, Oregon state, University, web services, public, new discipline, changes in libraries, career, careers, library careers, library career, professional journal, scholarly, academic, circulation, Portland, Multnomah County Library, innovative, inventive, solution, oregon librarians, librarian, political, politics, political action, association, civics, civic education, inspiring, engagement, role, participation, skills, create, creating, resources, develop, source, evaluate, evaluation, evaluating, University of Oregon, UO, learn, learned, program, job, for, a, an, the, leadership, institute, liola, leader, leaders, wil wheaton, jane scheppke, gallup, strengthsfinder, strength based leadership, LIOLA, leadership institute of the Oregon library association, social justice warrior, badass, dynamo, don't be a dick, crook county, prineville, central oregon, assistant, director, sesame street, paper chase, imposter syndrome, weirdo
Abstract
Lots of Ways to Be a Leader Or: I Am a Library Leader, and So Can You!
People tend to have a fixed mindset about who "librarians" are and how library staff should act, represent their profession, and lead. When I say "people," I am envisioning every public official, captain of industry and Lyft driver who has ever asked me how many people I shush in a day, and then I am envisioning a rain of cartoon anvils. To be fair, I'm also thinking of a younger version of myself, picking out the dowdiest clothes in my wardrobe for my first day as a circulation clerk at my college library.
Thirteen years and many burritos later, I'm still a loudmouth slob who routinely cracks wise and writes policies galore but enforces the only rule that makes sense to me: don't be a dick (Wheaton, 2007). I'm also the Assistant Director of Library Services at Crook County Library, and someone who wears the title "librarian" with pride. I got here through the guiding example of peers and bosses who showed me that "librarian" is not synonymous with "lame-o" and that in fact the best library leaders—the ones who do the most to effect positive change in their institutions and their communities—are the ones who embrace their strengths and dreams without compromise. This was the central thesis around which the inaugural Leadership Institute of the Oregon Library Association (LIOLA) was built, but it wasn't entirely news to me.
Downloads
Download data is not yet available.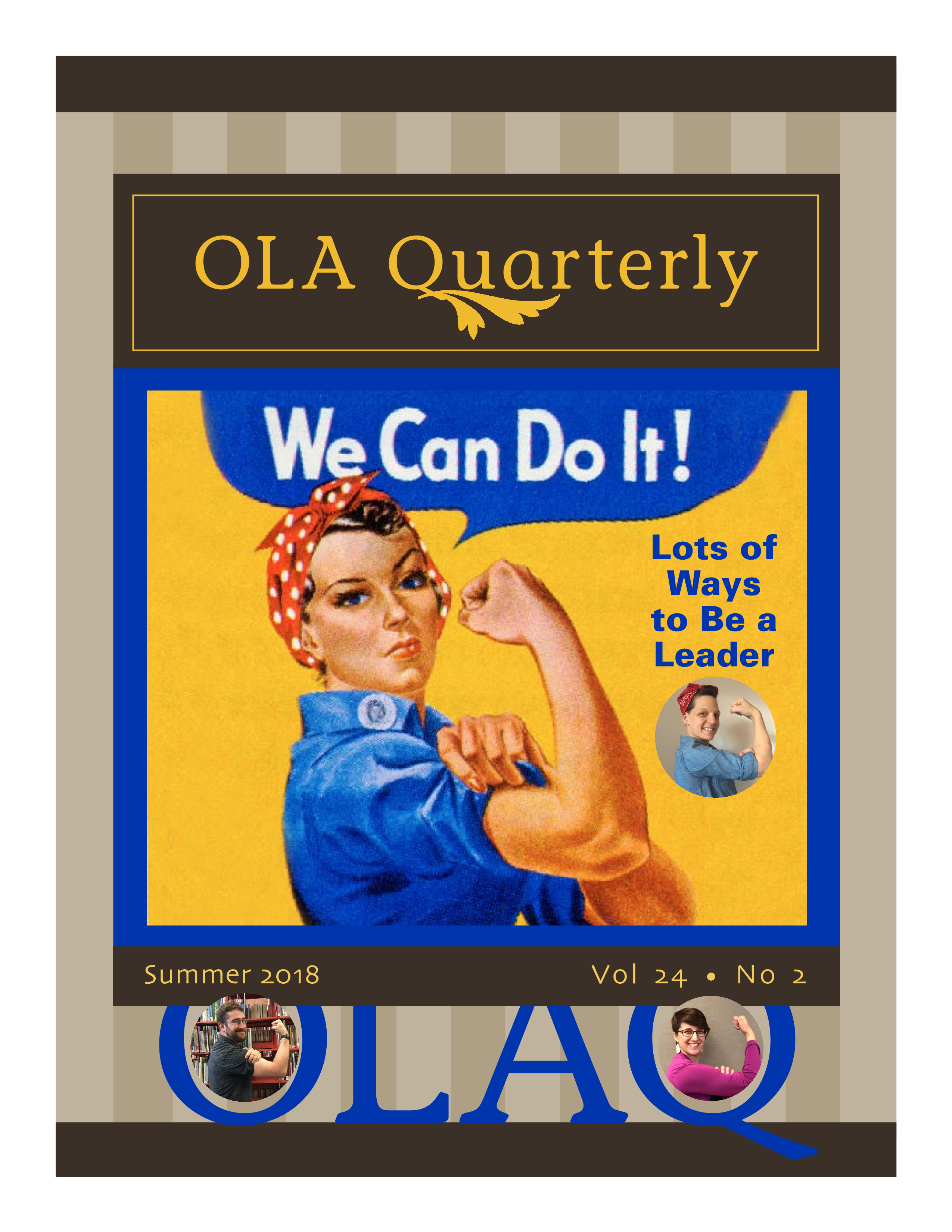 How to Cite
Scheppke, J. (2018). Volume 24 Issue 2 Introduction. OLA Quarterly, 24(2), 3-5. https://doi.org/10.7710/1093-7374.1938