The Jackson County Genealogy Library: Over a Half-Century of Helping People Find Their Roots
Cara Davis-Jacobson

Rogue Valley Genealogical Society

Anne Billeter

Rogue Valley Genealogical Society
Keywords:
Oregon, Oregon libraries, academic library, libraries, librarians, northwest, information science, information literacy, social media, writing, library trends, books, donors, library funding, Oregon library association, quarterly, Oregon library association quarterly, American library association, ala, ola, reading, library success, success, evolving roles, OSU, Oregon state, University, web services, public, new discipline, changes in libraries, career, careers, library careers, library career, professional journal, scholarly, academic, circulation, Portland, Multnomah County Library, innovative, inventive, solution, oregon librarians, librarian, political, politics, political action, association, civics, civic education, inspiring, engagement, role, participation, skills, create, creating, resources, develop, source, evaluate, evaluation, evaluating, University of Oregon, UO, learn, learned, program, job, for, a, an, the, special libraries, sue Ludington, law, lane county, genealogy, Bonneville power administration, nlm, classification, chiropractic, mazama, mazamas, historical, collections, oral history, Jackson county, providence, st. joseph, hospital, medical, Rajneesh, rajneeshi, ohs, Oregon historical society, antelope, Rogue Valley Renaissance, rogue valley genealogical society, president, southern oregon, rvgs, jcgl, osher lifelong learning institute, applegate trail, orphan train movement, stagecoaching, stagecoach, medford, phoenix, ancestry, my heritage, the rogue digger, jackson county, genealogical
Abstract
When the first few folks who gathered together in Southern Oregon's Rogue Valley to share their interest in genealogy and family research wrapped up their meetings back in the late 1960s, their "president," Ora Strom, tucked their shared reference books under her bed for storage. Little did that small group know that they would come to embody the proverb, "From humble beginnings come great things." Indeed, from those modest actions arose two significant and related Southern Oregon entities: The Rogue Valley Genealogical Society (RVGS) (www.rvgsociety.org) and the Jackson County Genealogy Library (JCGL) (www.rvgslibrary.org), which is managed by the Society.
In September of 2016, RVGS celebrated its semicentennial—50 expansive years of preserving the past so that others might benefit from the accumulated knowledge of so many who paved the way to create the society and library as they are today. RVGS and JCGL are gems that, these days, serve not only Southern Oregon but also researchers from all over the world. In fact, JCGL now houses the largest genealogical collection between Portland, Oregon, and Sacramento, California! For a modest membership fee, patrons gain access to a world of services and materials, including free special interest research groups, free and fee-based classes and seminars, and monthly programs open to members and the public at no charge. (Non-members pay a nominal daily visitor fee to use the library, and research requests are filled at special rates.) Society membership meetings are combined with public programs which occur nearly every month of the year. These popular talks delve into such topics as the Applegate Trail and settlement of our part of the state, the Orphan Train Movement, stagecoaching and stagecoach routes, historical visitors to and residents of Southern Oregon, and other historical and genealogical topics of interest.
Downloads
Download data is not yet available.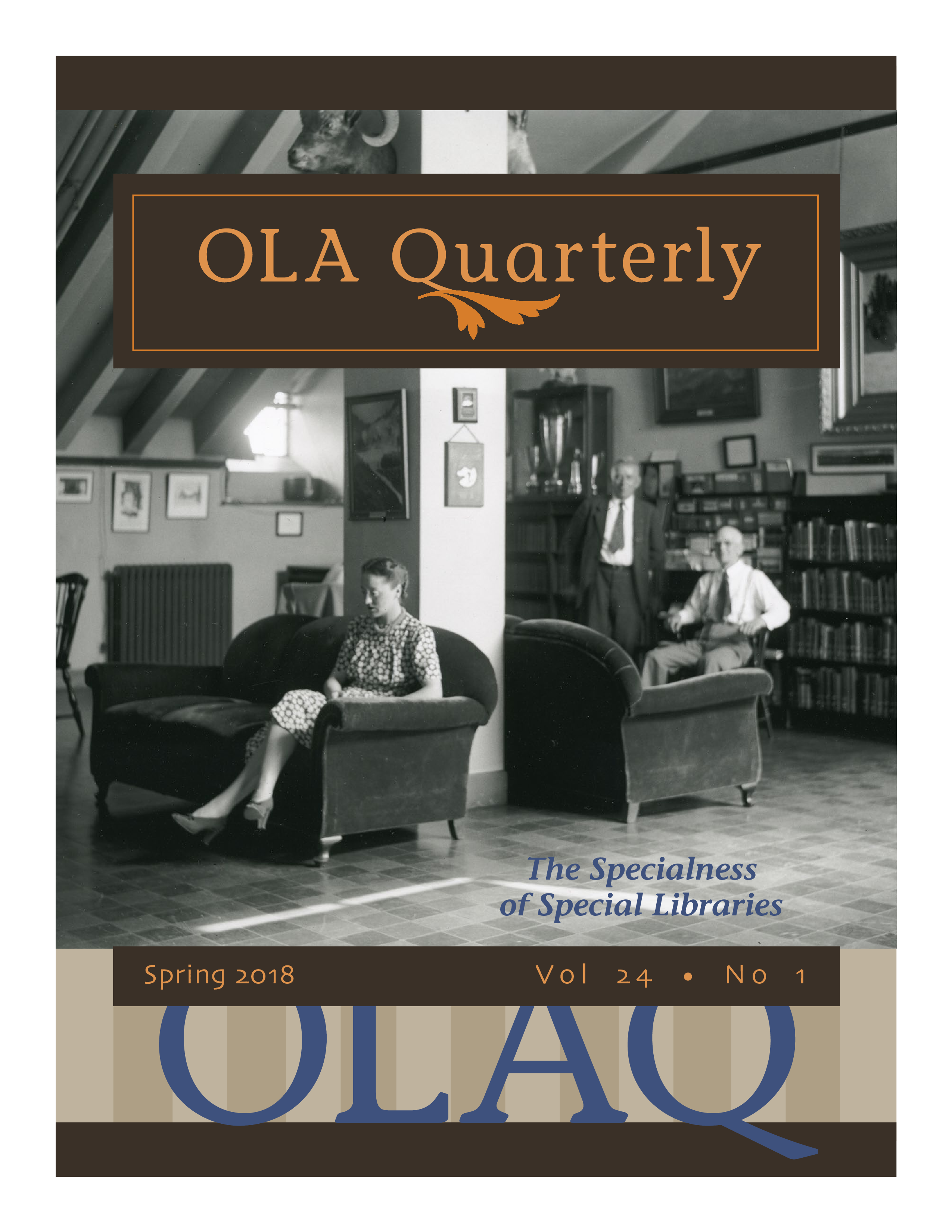 How to Cite
Davis-Jacobson, C., & Billeter, A. (2018). The Jackson County Genealogy Library: Over a Half-Century of Helping People Find Their Roots. OLA Quarterly, 24(1), 28-31. https://doi.org/10.7710/1093-7374.1931