Monographs, Manuscripts, and Mountaineering: An Overview of the Mazama Library and Historical Collections
Mathew Brock

Mazama Library
Keywords:
Oregon, Oregon libraries, academic library, libraries, librarians, northwest, information science, information literacy, social media, writing, library trends, books, donors, library funding, Oregon library association, quarterly, Oregon library association quarterly, American library association, ala, ola, reading, library success, success, evolving roles, OSU, Oregon state, University, web services, public, new discipline, changes in libraries, career, careers, library careers, library career, professional journal, scholarly, academic, circulation, Portland, Multnomah County Library, innovative, inventive, solution, oregon librarians, librarian, political, politics, political action, association, civics, civic education, inspiring, engagement, role, participation, skills, create, creating, resources, develop, source, evaluate, evaluation, evaluating, University of Oregon, UO, learn, learned, program, job, for, a, an, the, special libraries, sue Ludington, law, lane county, genealogy, Bonneville power administration, nlm, classification, chiropractic, mazama, mazamas, historical, collections, oral history, Jackson county, providence, st. joseph, hospital, medical, Rajneesh, rajneeshi, ohs, Oregon historical society, antelope, francis p farquhar, hiking, backpacking, mountain climbing, adventure, exploration, mt hood, c e rusk, rusk, club, organization, crater lake, william gladstone, cook, frederick, glisan, realia, vera defoe, henry pittock, lhc, petticoat
Abstract
Founded on the summit of Mount Hood in 1894, the Mazamas is a non-profit mountaineering organization with a legacy of promoting the Northwest culture of exploration and stewardship of its mountain environments. Headquartered in Portland, the Mazamas leads over 700 hikes and 350 climbs annually. It offers a variety of classes and activities for every skill and fitness level, all of which are open to both members and non-members.
Capturing the history of this mountaineering legacy and providing a variety of contemporary resources for Mazamas members and the public is the aim of the Mazama Library and Historical Collections (LHC). Occupying most of the lower level of the Mazama Mountaineering Center, the circulating library, established in 1915, is joined by a collection of climbing artifacts and an archival collection. It makes available a wide range of records that chronicle the history of the Mazamas and the organization's place in Pacific Northwest outdoor recreation. Additionally, the LHC serves to document and preserve the actions and activities of the Mazamas committees and past and current members.
Downloads
Download data is not yet available.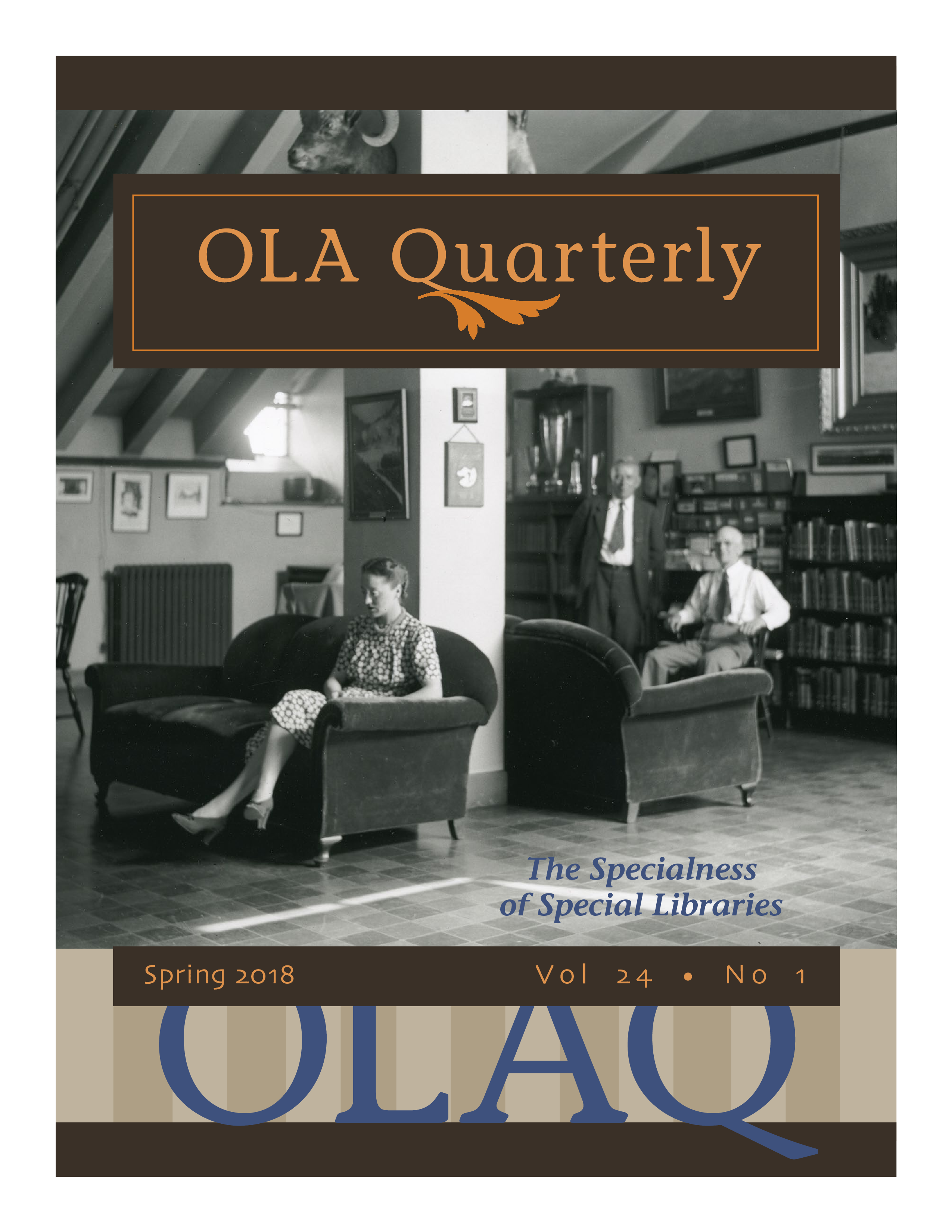 How to Cite
Brock, M. (2018). Monographs, Manuscripts, and Mountaineering: An Overview of the Mazama Library and Historical Collections. OLA Quarterly, 24(1), 6-12. https://doi.org/10.7710/1093-7374.1927