Building Community at the Library With Coffee and Conversation
Amy Honisett

Multnomah County Library

Rachael Short

Multnomah County Library

Kate Schwab

Multnomah County Library
Keywords:
Oregon, Oregon libraries, academic library, libraries, librarians, northwest, information science, information literacy, social media, writing, library trends, books, donors, library funding, Oregon library association, quarterly, Oregon library association quarterly, American library association, ala, ola, reading, library success, success, evolving roles, OSU, Oregon state, University, web services, public, new discipline, changes in libraries, career, careers, library careers, library career, professional journal, scholarly, academic, circulation, Portland, Multnomah County Library, innovative, inventive, solution, oregon librarians, librarian, political, politics, political action, association, civics, civic education, inspiring, engagement, role, participation, skills, create, creating, resources, develop, source, evaluate, evaluation, evaluating, programming, takeaway, program, programs, esther moberg, makerspace, homeless, patrons, stem, steam, money smart, resource sharing, unlock the box, lockbox, adulting 101, procrastination, takeover, nerf, youth, family, Sarah Ralston, eastern Oregon university, miniature, horse, study, students, advertising, pizza, waffles, a night against procrastination, tutor, research
Abstract
As communities and individuals struggle with houselessness and housing insecurity, library staff must adapt in order to help our patrons fulfill needs. In 2013, Multnomah County Library (MCL) and the Multnomah County Department of County Human Services surveyed library patrons about library use. The survey identified that about 18.6 percent of visitors to Central Library—the county system's main branch, located in downtown Portland— are people experiencing houselessness. These patrons visit the library more frequently than patrons who are not experiencing houselessness, and they tend to stay at the library longer than the latter group.
Because patrons experiencing houselessness may have negative experiences interacting with staff in businesses, government offices, and other public institutions like libraries, it's important to start any engagement by building relationships. Staff members need to help these patrons find resources and library materials, assist them with account issues, and show them that the library is the right place for them by making them feel welcome. In order to address this need, staff looked for a way to build relationships between staff and patrons and to create a welcoming environment in the library.
Downloads
Download data is not yet available.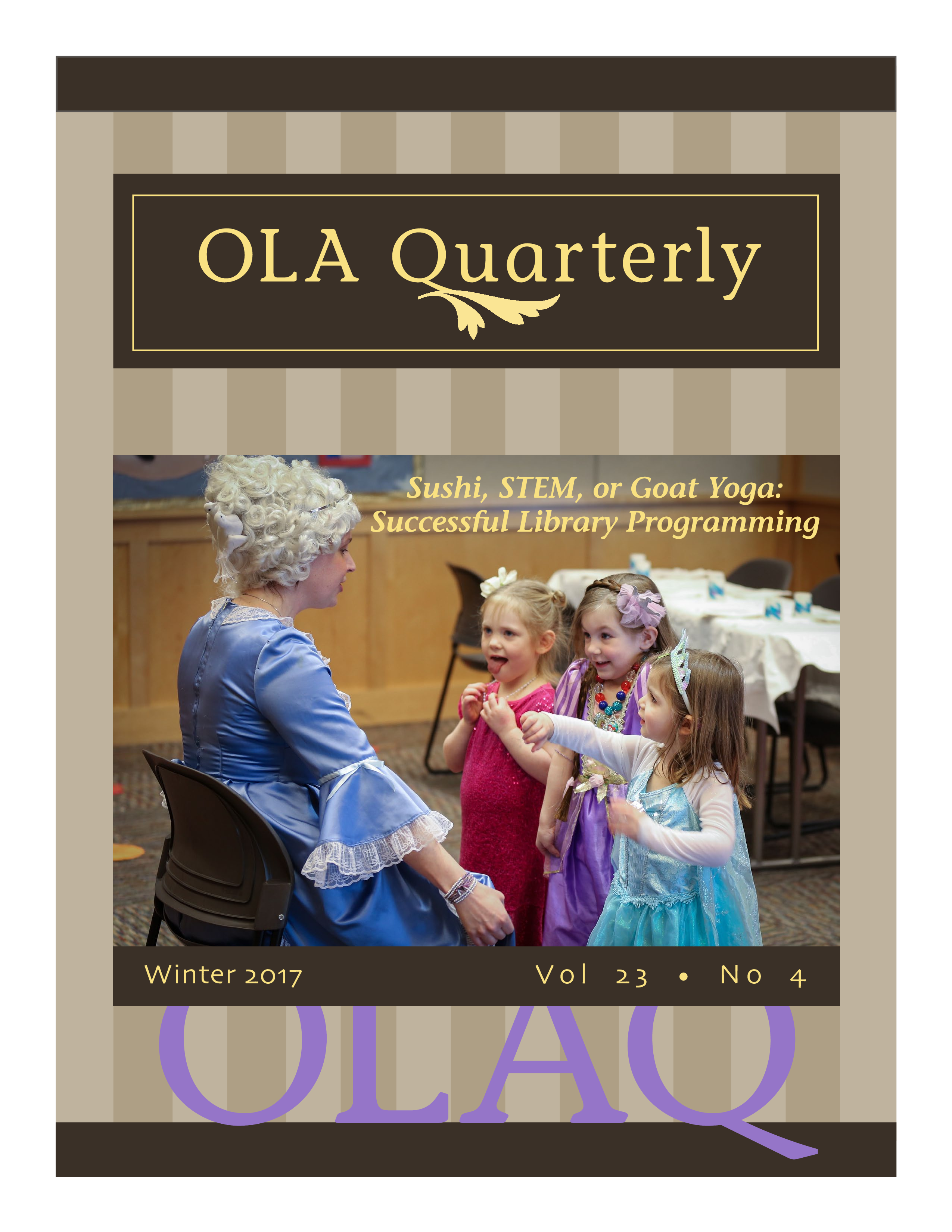 How to Cite
Honisett, A., Short, R., & Schwab, K. (2018). Building Community at the Library With Coffee and Conversation. OLA Quarterly, 23(4), 20-25. https://doi.org/10.7710/1093-7374.1919